SOS Adoption Guidelines
Available Beagles
SOS Beagle Rescue, Inc. has three chapters, and our dogs are listed by chapter. All of our beagles are spayed/neutered, microchipped, up to date on vaccinations, and on heartworm preventative, prior to adoption.
If you see a beagle that you are interested in, please read over these guidelines and submit an application. Please keep in mind that you must be willing to travel to meet both us and the dog!!
We cannot guarantee any dog's availability since there is often a waiting list of pre-approved adopters for incoming dogs. If you are interested in adopting, we encourage you to submit an application to get the process started. Completing an application does not guarantee an adoption. SOS Beagle Rescue reserves the right to refuse any adoption to any person for any reason.
Adoption Process
Fill out our online application form. You must be over 21 to adopt! We will acknowledge receipt of your application within 48 hours. Once you've submitted your application form, please allow us 2 weeks to process your application. (We generally do so within 1 week.)
Please note that:

All current pets must be up to date on shots and heartworm preventative. We have no reason to believe that our dog will be given better vet care than those already in your possession, and we've spent time and money to be sure our dogs are healthy when adopted. We will not risk that required follow-up care will be neglected.
Applicants with children 8 years of age or younger, with no recent beagle ownership, are required to have a fenced-in yard. Occasional exceptions are made if there is a history of recent beagle ownership.

We will contact you when your application is approved. You will be asked to review the available dogs on our website for a potential match, and/or we will contact you when one comes into the rescue. If you are looking for a very young pup or something very specific (13" male 1-2 yrs. old) it may take longer for you to hear from us -- we won't contact you unless we have something that is near your request
All of our beagles are spayed/neutered, microchipped, up to date on vaccinations, and on heartworm preventative.
All adoptions require a personal visit by all family members residing in the home -- we do not ship our dogs to their new homes.
We will contact you to make an appointment for your interview and to meet the dog. Appointments are offered at the convenience of both you and the home where the dog is being fostered. (Remember, we have jobs and family obligations, too, and occasionally have to make time for such events!)
An adoption fee of $180 is required at time of adoption, payable in cash or money order. (We have regrettably had to discontinue the acceptance of personal checks.) This partially reimburses us for the cost of your dog's spay/neuter, shots, heartworm test (and treatment, if necessary), microchip, and other expenses. Occasional special needs or senior dogs may qualify for a reduction in the adoption fee.
Please have the courtesy to call us and cancel your application if you find a dog elsewhere. We are volunteers, work full-time, have families and pets of our own, and our time and resources are just as precious to us and the dogs we are trying to help, as they are to you.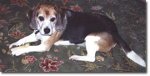 Please consider adopting an older beagle.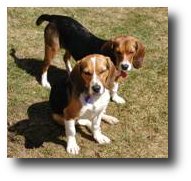 Or you could even adopt a pair of beagles.